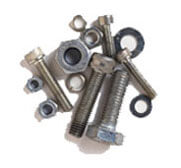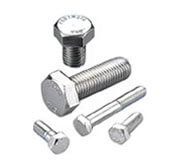 Range & form B
Bolts :
Hex Head Bolts, Hexagon Head Screw, Mushroom Head Square Neck Bolts, T- Head Bolts, Wing Screw, Eye Bolt, Lifting Eye Bolt, Countersunk Raised Head Bolts.
Nuts :
Hexagon Nuts, Hexagon Coupling Nuts, Hexagon Thin Nut, Square Nut, Hexagon Castle Nuts, Self Locking Nut, Hexagon Domed Cap Nuts.
Washer :
Plain Washer, Plain Big OD Washer, Plain Small OD Washer, Spring Lock Washer, Spring Washer Heavy Duty, Tooth Washer, Serrated Star Washer, Tab Washer with One Tab, Tab Washer with Two Tab.
Stainless Steel Grade : 304, 304L, 304H, 309, 310, 310S, 316, 316Ti, 316 L, 317, 317L, 321, 347, 347 H, 904L
Nickel Alloy Grade :
Nickel 200 (UNS No. N02200), Nickel 201 (UNS No. N02201),
Monel 400 (UNS No. N04400), Monel 500 (UNS No. N05500),
Inconel 800 (UNS No. N08800), Inconel 825 (UNS No. N08825),
Inconel 600 (UNS No. N06600), Inconel 625 (UNS No. N06625),
Inconel 601 (UNS No. N06601),
Hastelloy C 276 (UNS No. N10276),
Alloy 20 (UNS No. N08020),
Titanium (Grade I & II)